Campus Resources
Accessibility Resource Center
The UNM Accessibility Resource Center helps students with disabilities. Should a student have a disability that they have proper documentation for, they can make an appointment to speak with an ARC counselor. The Accessibility Resource Center is dedicated to providing the best possible help for students in need. All information discussed between the student and their counselor is confidential. To see more information on the Accessibility Resource Center click the link to visit their website.
Emergency Contacts:
Police, Fire, and Serious Emergency: call 911

UNM Campus Police: 505-277-2241

Address: Main Campus, 2500 Campus Blvd NE

UNM Hospital Emergency Room: (505) 272-2411

Address: 2211 Lomas Blvd NE

UNM SHAC Counseling Services: 505-277-3136

Address: UNM Building 73

UNM SHAC After-Hours Counseling: 505-277-3136, select option 3

AGORA Crisis Hotline 24/7, Anonymous Volunteer Helpline: 505-277-3013 or 855-505-4505

LOBO Respect (Student support and discrimination): 505-277-2911

Website: www.Loborespect.unm.edu

International Travel or Immigration Emergencies (Stuck at Port of Entry, etc.): (505) 277-4GEO

Women's Resource Center: (505) 277-3716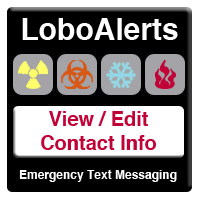 UNM Emergency Notification System:
Click here to sign up to get notifications about weather, emergencies, and other important information at UNM Campus. You can choose to receive notifications by text message or email.